The Oklahoma Film + Music Office (OF+MO) is proud to partner with the University of Oklahoma's (OU) School of Music to present The Resonance Series with Jeremy Thomas next Thursday, February 24, 2022 in person as well as via Zoom. Thomas is a multi-instrumentalist who has toured and performed with international touring artists, and resides here in his home state, Oklahoma.
The Resonance Series is a free guest lecture series hosted by OU's School of Music and Jazz in June that connects OU students and Norman musicians with music professionals from around the world. Speakers share their experiences, provide the future generation with insight into the industry and career paths, and answer questions students may have.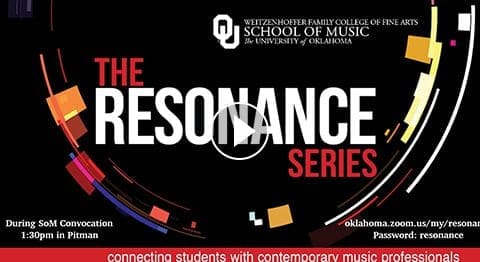 Click to watch a discussion with Jeremy Thomas.
For more details about this free series, visit ou.edu/finearts/music.
###
About the Oklahoma Film + Music Office:
Under the Oklahoma Department of Commerce, the Oklahoma Film + Music Office (OF+MO) works to promote the state as a viable hub for film, television and music production as well as further develop opportunities for workforce, business and community growth within these sectors. For more information on the Oklahoma Film + Music Office, including the state's film incentives and additional resources, visit okfilmmusic.org.